Kids are  getting excited!!! No to long away now and the big fella will come a tumbling down the fire chute! Gonna be interesting, I'm sure that's breaking and entering!
In other news I forgot to make a point that on the 13th it was TMTM's second birthday and we've come a fair old way. Almost at 150 strips!!!
And to celebrate, here's a photo of the very handsome Kev Lloyd sporting a TMTM shirt 🙂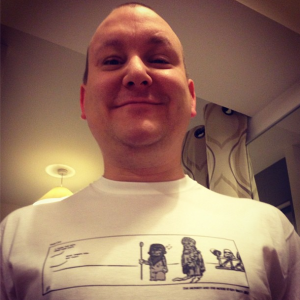 Go get yours here!