Have you ever tried getting kids' passport photos done?? WHAT A NIGHTMARE!! We got there in the end, but still need to get them checked by official sources! Could cost us a fortune.
You can now finally preorder your very own TMTM t-shirt!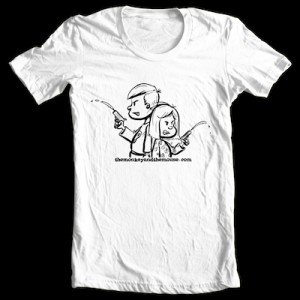 These will be screen printed on Gildan GD005Heavy Cotton shirts for men and Gildan GD072 Softstyle shirts for women. Kids t-shirts are also available, printed on Gildan GD05BHeavy Cotton shirts.
The price of the shirts are £11.50 +£2.50pp for adults and £7.50 +£2.50pp for kids (UK shipping, for intnl price please contact me). THESE WILL ONLY BE PRINTED WHEN I HAVE 10 PREORDERS!! (1 order done already so only 9 to go 🙂 )
Please email me @ tmtmcomic(at)hotmail(dot)co(dot)uk with your style and size of shirt and I will send you a paypal link.
Looking forward to getting these out there!! 🙂